Since several people asked, I thought I would elaborate on my opinion on critiques.
QUESTION
: How do you handle an
unasked
for critique?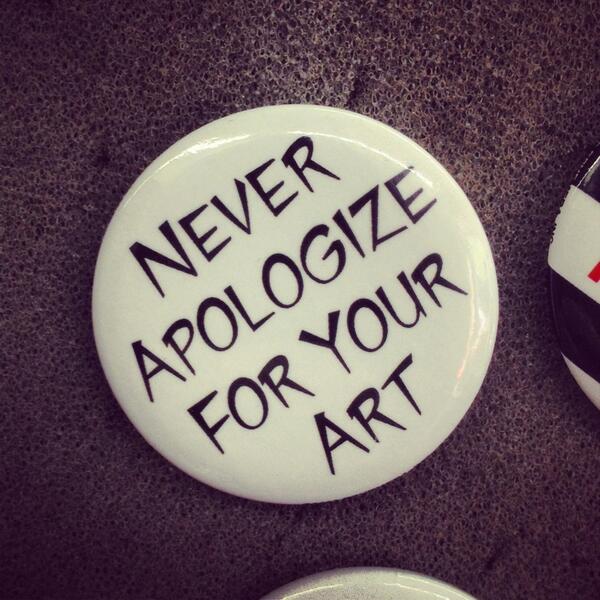 ANSWER
:
Welllll
. . . . That has changed over the years. The change came as I got more confident in my art. I always thought I needed to justify the piece. . . to
explain
my decisions and actual take the comments from the
peanut gallery
to heart. Then one day I had an
epiphany
when I bought a little tin pin that said
Never Apologize For Your Art
Well
aduh
on me. Why didn't I think of that? So from that moment on I did just that. When someone offers an unasked for critique I paint a
small smile of interest
on my face and immediate
stop listening
. Try it - it works great - maybe nod a little - offer a little humph and ignore it all. Works great - promise. Hurts no feelings - yours or your well meaning critic.
QUESTION
: What about judges comments?
ANSWER
: Because I believe my fiber art is more than just a technical craft that I've been practicing over the last 20 years, I really
don't
take any stock in traditional quilt judges comments. This goes back to one of my critique rules. Trust that your critic knows what they are talking about. At traditional quilt shows, they rarely have a quilt artist judging - so their comments usually are ill informed. My take on it is if they have an art quilt category - they should
judge the quilt as art
.
Ya think?
And onto my progress on my
Line challenge
. As I had already surmised, Elizabeth thought the piece needed to be soften and that the two parts (bricks and the background needed to be brought together). So I worked on that this week. I put the last touches on piecing the background and started to make the changes to the piece. This version is getting closer but now I think the lines are a little too thin. So am going to start playing with them a bit. Its all visual decisions that need to be made visually. I do like the way the bricks look now that they're not so brown. I still get a kick out of using all my own hand dyeds!! With only 10 days to finish this - I gotta make the final decisions soon!
So what have been up Creatively?